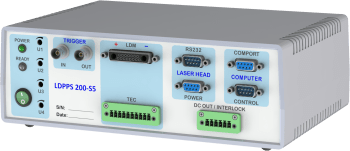 Laser Diode Pump Power Supply "LDPPS"
High power Laser Diodes Pulsed Power Supply combines laser diode driver and two independent thermoelectric controllers.
It is designed to provide pulsed and continuous modes of operation for laser diode modules used both independently or as a source of diode pumping for solid-state lasers (DPSSL) in the laboratory, medical and technological laser devices and complexes. The power supply is controlled from a computer via VLC software.
Make an order
Features
Provides up to 400 A LD current and up to 150 V LD voltage (up to 400 V in OEM version)
Precisely set LD voltage via VLC software
Control of the of LD current pulses timing in a wide range of parameters
Input and output connectors for synchronization with external devices
2 independent thermoelectric controllers (TEC1, TEC2) and one additional temperature sensor (Ths3)
Power supply for additional low-power pilot laser
Measurement of external photodiode signal
3 external interlocks
Controlled from computer via COM port connector
Built-in AC/DC converter
Specifications
Max LDM voltage
150 (400) V
LDM average power
≤ 600 W
LDM working pulse length
40 ÷ 100 000 µs
Repetition rate
0.1 Hz ÷ 10 kHz
Instability of the current amplitude
≤ 1 %
Range of the temperature control
– 50 ÷ 120 °C
Discreteness of the temperature control
± 0.1 °C
Additional Temperature Interlock Ths3
– 50 ÷ 120 °C
Pulse amplitude Utrig_in (Impedance = 1 kΩ)
5 V ± 20 %
Pulse amplitude Utrig_out (Impedance ≥ 1 kΩ )
5 V ± 20 %
Adjustable range of output trigger delay
0 ÷ 3900 µs
Linear range of the photocurrent measurements
0.01 ÷ 160 µA
Dimensions
260 × 180 × 92 mm3
Operating temperature
+ 5 ÷ + 45 °C
Leave a request
Engineering and development of laser system electronics: high-voltage drivers, delay generators, laser diode driver power supplies.